As I mentioned in the previous post I'm running short on subjects for my "Color Splash" photo book idea so this morning I decided to head over to the Volo Bog State Natural Area.
We've lived here for almost 10 years now and this park is only a couple of miles from the house but we've never stopped to check it out. I spent about 2 hours there this morning and really only walked a couple of 100 yards down the boardwalk path that goes across the bog itself so I can tell you I hope to get back a lot more frequently now.
Even this early in the spring there was plenty to see and in that quick visit I still managed to shoot almost 180 photos – I really love the DSLR – a sample after the break.
These are just the unedited images, I haven't even cropped them yet.
In case you don't know, this is what a bog looks like:
I think this is a Blue Jay:
I'm not sure what these two are but I even managed to catch a couple of shots of one of them in flight:
I know my wife will appreciate this little fellow:
Another one I need to look up: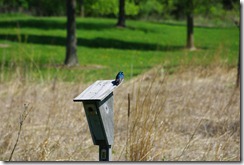 A few of the many small flowers that are in bloom:
Finally, these two Sandhill Cranes are what I spent the majority of my time on. I probably got 30 pictures of them many from about 5 feet away.
In this one I managed to almost capture the Redwing Blackbird that kept dive bombing the cranes trying to chase them off:
They pretty much ignored him though one of them would occasionally snap at him as he came close.
Like I said I took almost 180 pictures so I'll be posting more as I get them edited.